Free TON Wiki Social Community that anyone can edit!
Welcome to the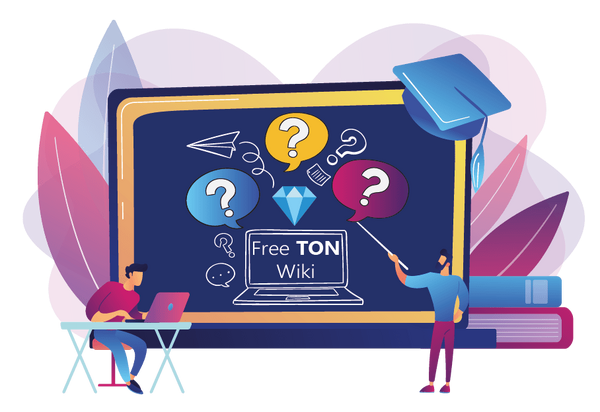 As you can see we are currently editing 72 articles, and you can help.

Free TON is a fast, secure and scalable blockchain and network project, capable of handling millions of transactions per second if necessary, and both user-friendly and service provider-friendly. One might think about Free TON as a huge distributed supercomputer, or rather a huge "superserver", intended to host and provide a variety of services.
Below you can find the main categories of this Wiki, which are covering the basics of what Free TON is and how it works.
Free TON blockchain
Free TON is based on a flexible multi-blockchain platform called TON Blockchain, which is capable of processing millions of transactions per second, with Turing-complete smart contracts, upgradable formal blockchain specifications, multi-cryptocurrency value transfer, support for micropayment channels and off-chain payment networks. The TON Blockchain presents some new and unique features, such as the "self-healing" vertical blockchain mechanism and Instant Hypercube Routing, which enable it to be fast, reliable, scalable and self-consistent at the same time.
Free TON Architecture
Free TON ecosystem
Contests in Free TON
Free TON Governance and Subgovernances
For developers
For the Wiki team
Here authors can find useful pages
Structure
Other
About
ru:Free TON Wiki az:Free TON Wiki be:Free TON Wiki bg:Free TON Wiki cs:Free TON Wiki de:Free TON Wiki el:Free TON Wiki es:Free TON Wiki fa:Free TON Wiki fr:Free TON Wiki hi:Free TON Wiki hu:Free TON Wiki hy:Free TON Wiki id:Free TON Wiki it:Free TON Wiki lv:Free TON Wiki ms:Free TON Wiki pt:Free TON Wiki tr:Free TON Wiki uk:Free TON Wiki zh:Free TON Wiki
Important articles
Need help building out this community?
Blogs

Community Founders: Write a good and paragraph-length description for your welcome section about your topic. Let your readers know what your topic is about and add some general information about it. Then you should visit the admin dashboard for more tips.